All-On-4 Dental Implants in Santa Clarita
A Cheaper Alternative to Dental Implants
Due to demanding maintenance requirements and diet restrictions, most people dislike removable complete dentures and opt for dental implants. While they are considered a great alternative to dentures, six or eight implants are often required to restore a full arch of teeth, which results in a costly undertaking.
Fortunately, Pure Dentistry Children & Adults offers patients who are interested in full-teeth restoration our All-on-4 treatment option. This means that a complete upper or lower arch of teeth can be supported by four optimally placed dental implants, which is cheaper and faster than traditional implant techniques. If you are interested in seeing if the All-on-4 treatment option is right for you, consult with our Santa Clarita implant specialists right away.
The All-On-4 Dental Implant Procedure
Upon a thorough evaluation conducted by our Santa Clarita dental implant specialists and subsequent approval, we will schedule a date for the procedure, which all takes place in one single day. First, our dentist will give you anesthesia and prepare your mouth for the implants, which entails removal of the remaining teeth and any infected tissue from your jaw or gums.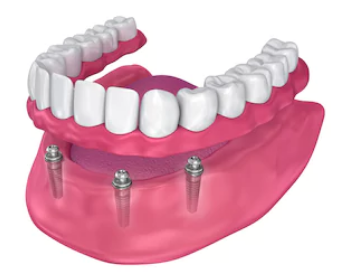 Next, the implantation process will begin by inserting the titanium screws through your gum tissue into your jawbone. In most cases, two implants will be placed toward the front of your mouth and two will be placed toward the back of your mouth. Once the implants have been placed, the surgical sites and suturing will be cleaned. On either the same day or the following day, you'll be fitted with your new set of teeth.
The benefits of All-on-4 dental implants include:
Faster procedure compared to traditional techniques
Quicker recovery process
Lower costs
Preserves the bone in the jaw
Increased comfort
Lasts for up to 10 years or more!
How to Take Care of All-On-4 Dental Implants
To maintain All-On-4 dental implants, brush and floss daily, paying attention to the implant areas. Rinse with an antimicrobial mouthwash. Avoid hard foods, smoking, and excessive alcohol. Attend regular dental check-ups and professional cleanings. These measures ensure the longevity and health of your All-On-4 implants.
Our Implant Dentists Can Help You Obtain a Beautiful Smile Today!
Our dental staff at Pure Dentistry Children & Adults are committed to keeping your mouth healthy, beautiful, and happy. We strive to build strong relationships with our clients and ensure they are completely satisfied with our care.
Contact us today at (661) 228-6029 to schedule an appointment and learn more about All-on-4 dental implants in Santa Clarita.