Dental Implants in Santa Clarita
Lasting Solutions for Missing Teeth
Dental implants are the best tooth replacement option modern dentistry has to offer. Implants offer long-lasting results and help to preserve the bone that supports the teeth, which can deteriorate after tooth loss. Pure Dentistry Children & Adults provides dental implants in Santa Clarita to replace one or more missing teeth.
How Do Dental Implants Work?
An implant is a small titanium post that is used to replace the root of a missing tooth. The implant is placed in the jawbone in a surgical procedure. After the area has healed and the implant used to the jawbone, a crown is placed over the implant to replace a missing tooth.
If you want to learn if dental implants in Santa Clarita may be the right solution for you, contact us at (661) 228-6029 to meet with an implant specialist.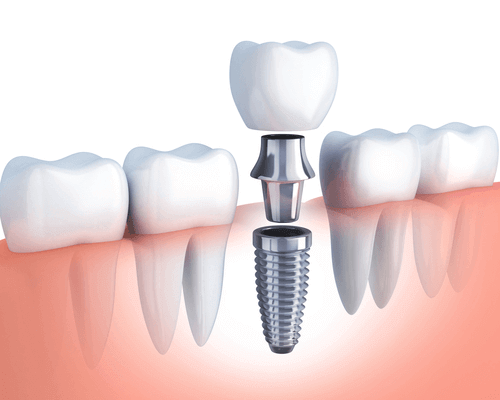 Dental implants can be used to:
Replace One Missing Tooth – A single implant is surgically placed into the bone where the missing tooth's root was located. A crown is placed over the top of the implant to create a natural-looking replacement. Implants look and feel just like your own natural teeth.
Replace Several Missing Teeth – If you have more than one missing tooth, implants offer a strong replacement option. Implants can be used to support fixed bridges. If you are missing a few teeth in a row, implants can be placed at either end of the space to hold the bridge in place.
Support for Removable Dentures – Implants make removable dentures more comfortable and healthier to wear. When traditional dentures rest on your gums, the pressure created accelerates bone loss. This results in dentures slipping and creates a hollow appearance over time, as a result of bone loss.
Fixed Bridges – Implants can support an entire arch of upper or lower teeth, so your dentures are never removed. New teeth can be supported with four to six implants, depending on the density and volume of the jaw bone.
There must be sufficient bone to hold implants in place. Unfortunately, tooth loss often causes deterioration of the bone. Bone grafting can be used to provide the anchor needed to hold teeth in place. There are several types of bone grafting material used to prepare for dental implants. We can discuss the options and help you determine the procedure that is best for you.
How Painful Are Dental Implants?
Because getting a dental implant requires surgery, unlike bridges and dentures, it's not uncommon to wonder about the pain level of the procedure. Because installation requires your dentist to cut into your gums, they will first numb the area with local anesthetic. You should not feel any discomfort as they make an incision to expose your jawbone.
Once the area is more accessible, a hole is drilled for the implant. While this might seem scary, it's important to remember that your jawbone doesn't have any nerves; therefore, you'll feel no pain. At most, you'll feel a slight bit of pressure in your mouth. The entire process should only take about an hour.
During the healing process, you should expect some tenderness around the site. You can take an over-the-counter pain medication to help alleviate this.
In the event that you are experiencing pain, it's important to contact us for a follow-up.
Caring for Dental Implants
The only ways implants can fail after they are successfully fused to the jawbone is due to excessive biting forces or poor oral hygiene. Your implants are a long-term investment, so you will want to take care of them. With proper care, your implants will last for many years.
The following practices will help ensure that your dental implants function properly:
Brushing your teeth twice a day, with a toothbrush that has soft bristles
Flossing daily and using a small interdental brush to help clean hard-to-reach areas of your mouth
Using a dentist-recommended toothpaste
Limit your intake of foods that could potentially damage your dental implants, such as hard candy, chips, or nuts
Talk to a professional at Pure Dentistry Children & Adults if you find that you grind your teeth often
Can Anyone Get Dental Implants?
In general, most healthy individuals who have lost a tooth or multiple teeth are suitable candidates for dental implants in Santa Clarita. However, certain factors such as the quality of the jawbone, overall oral health, and any existing medical conditions may affect the eligibility for dental implants. A thorough examination and consultation with a dentist at Pure Dentistry Children & Adults can determine if you are a good candidate for the procedure.
Benefits of Dental Implants
Dental implants offer numerous benefits, including:
Enhanced Appearance: They closely resemble natural teeth, improving the appearance and smile.
Improved Speech: They allow for clearer speech compared to removable dentures.
Increased Comfort: They become a part of the jawbone, providing stability and comfort.
Better Oral Health: They don't require reducing other teeth, promoting better oral health.
Durability: With proper care, they can last for many years, providing a long-term tooth replacement solution.
Improved Eating: They function like natural teeth, allowing for easier and more efficient eating.
Boosted Self-Esteem: They can improve self-confidence and self-esteem by restoring a natural smile and facial appearance.