Santa Clarita Endodontics
Root Canal Therapy & More
Endodontics is a dental specialty that focuses on the structures and tissues inside the teeth. Root canal therapy is the most common procedure performed in this specialty. Pure Dentistry Children & Adults offers Santa Clarita endodontic services for root canals, dental trauma, microsurgery on the tooth roots, and solutions for intermittent tooth pain.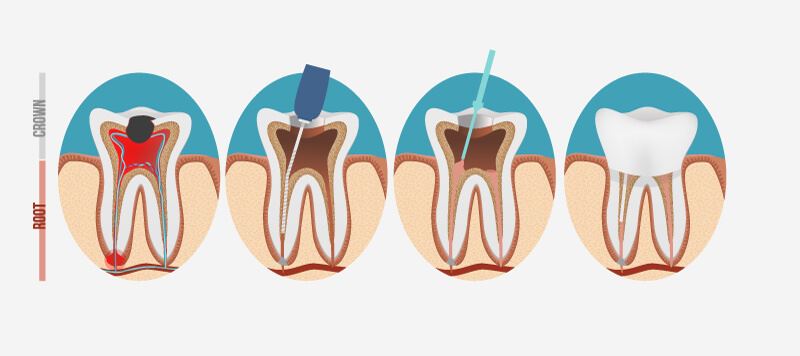 Call (661) 228-6029 or contact us online to schedule an appointment and learn more about endodontics in Santa Clarita.
What are the Signs that I Might Need Endodontic Treatment?
Some common signs that you may require endodontic treatment include persistent toothache, sensitivity to hot or cold temperatures, swelling or tenderness around the tooth, discoloration of the tooth, and the presence of a pimple-like bump on the gums. Get in touch with Pure Dentistry Children & Adults today if you are showing any of these symptoms.
When is a Root Canal Needed?
Under the enamel of the tooth, there is a tissue called dentin. The bulk of the structure of the tooth is comprised of dentin. Like bone tissue, dentin can transmit sensations to the nerve cells. At the core of the tooth are chambers known as root canals. Soft pulp tissue in this area has nerves, blood vessels, and connective tissues. When pulp tissue is inflamed or infected, pain may result. Infection can be caused by untreated tooth decay, a crack in the tooth, or dental trauma. If not treated, the problem may result in tooth loss.
Santa Clarita Endodontic Treatment
Although root canal therapy has a bad reputation, it is important to understand that this procedure is designed to relieve pain, not cause it. Our Santa Clarita dentists use local anesthesia for endodontics, so the discomfort is no more than would be expected with a filling.
The steps in the root canal procedure include:
A numbing shot is given to prevent pain
A small opening is made in the surface of the tooth
Tiny instruments are used to remove dead and decayed tissue inside the passages
Once the infected tissue is removed, the passages are cleaned and disinfected
The tooth is then filled
The next step will depend on the situation. While some people may not need any additional procedures, a restoration may be needed to restore the function and appearance of the tooth. A dental crown is most commonly used for this purpose. The restored tooth will last for many years, as long as you maintain proper dental care and hygiene.
For more information about Santa Clarita endodontics and root canal therapy, call our office at (661) 228-6029.